Welcome!

Modem related problems were the biggest source of trouble for many PC computer users in the late 90's and around the turn of the century before real high-speed access became widely available. Today, few people use dial-up modems for Internet access - but, there still are some applications for these devices. Modemsite still has all the information on dial-up modem technology for both data and voice applications: the voice-modems remain the most widely used area today as the modems can answer and route voice calls, be used for sending and receiving faxes, and support PC applications that need caller ID information.

Modemsite has extensive information on dial-up modems, and can help you troubleshoot and correct problems from installation to disconnections.

Modemsite began almost 20 ago as 3 pages I called 56k=v.Unreliable. Today, there's over 400 pages of modem information - publishing the site became my full-time job around the turn of the 21st century. Today, it costs me money to keep the site up as few people need it and there's little ad revenue. You can support the continued existence of Modemsite and view the entire site ad-free with a Premium Access Subscription. Most of the site is also available "free" with advertising.

In August 2015 I moved the site to a new hosting service - this required updating some of the pages and behind-the-scenes code. There may still be some issues with some of the pages or features of the site If you find a problem with the site, please let me know.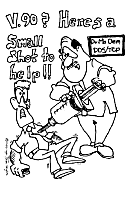 Dr. Mo Dem ©James Douglas
Modemsite.com is written and maintained by 'v.Richard'